System Upgrade
Online Banking Demo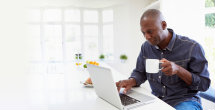 Mission Accomplished, Upgrade Complete
We have been working very hard to upgrade our system with features that better suit your needs. Now that the upgrade is complete, we would like to introduce you to some of the new features that you will experience. Thank you for being patient with us during the upgrade.
Online banking is now DVAnytime Online Banking - Online banking has been updated with a new look and feel while offering you more services. Some of these services include loan payoff quotes, online loan applications, and Interbank transfer (coming in July). Take a tour of the DVAnytime Online Banking demo site to preview the new features before you login. The demo site can be found at http://demo.netteller.com/mydvafcu/. Read more about the upgraded features that will enhance your online banking experience below.
eStatements - Enrollment can now be completed through DVAnytime. Save time, money, and paper by enrolling in eStatements.
Bill Pay - New features have been added to Bill Pay to make the user experience easier.
Person to Person (P2P) - You will now be able transfer money to other individuals, even if they do not have an account with DVA FCU.
Live Bill Pay Support - Need a question answered after we've closed? The live chat is there to answer any questions you may have.
Message Center - A secure way to communicate with a DVA FCU member service representative about your account.
How to Login. Beginning June 3, all enrolled members will need to use a new one-time login and password to access DVAnytime. Please use this example for your new login information.
User name : dva followed by your member number (no zeros).
For example: If your member number is 0001234. Your login would be dva1234
Password: the last four digits of your social security number
Note: After your initial login to DVAnytime, you will be prompted to change your user name and password. You should be able to change your username and password to the one you were using prior to the upgrade. As part of choosing the username and password, you will be asked to choose a "Watermark" picture as well.
What is Different?
Some settings may have changed during the upgrade. Read below to see how these changes may affect you.
eBill and Automatic Transfers: If you had any of the following set up prior to the upgrade, they will need to be set up again now that we have upgraded our online banking system.
Account History: If you are looking to view your account history prior to June 1, 2014, it can be found under the "Services" tab by choosing "Prior History". All history beginning June 1, 2014 will appear under Transactions.
eStatements: All eStatements from 2014 are available for viewing.
Note: If you would like to access statements prior to 2014, please call 800.822.6875 or visit your local branch and a staff member will be able to assist you.
FAQ's.
We are prepared to answer any questions that you may have about the system upgrade and DVAnytime. Below, you will find a list of the most frequently asked questions.
Q: How do I know if I am on the correct page?
A: We recommend that you login through our website's homepage at dvafcu.org. This is the most secure method to access DVAnytime Online Banking.
Q: What should I do if I get locked out of my account?
A: You will need to contact customer service at 800.822.6875 or visit your local branch and someone can assist you.
Q: Will my previous online banking shortcut still work?
A: No, you will need to delete your old shortcut. For the most secure method, we recommend that you login to DVAnytime Online Banking via dvafcu.org.