CU Call Telephone Banking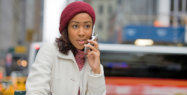 In the event you can't make it to a branch, use your touch-tone phone to stay on top of your accounts. Call toll-free, 24 hours a day to easily manage your funds.
Hear your account balances, transfer funds, make loan payments and more. You can even reorder checks. Fast, free, and convenient.
Summary

24/7, free account management from your touchtone phone
Call local (202) 371-0151
Call toll-free (800) 282-2557
Hear account balances
Transfer funds between accounts
Make loan payments
Stop Payments
Hear important financial information
PIN required
Safe and secure