Home Equity Loans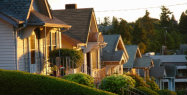 If your home is worth more than your mortgage balance you may be able to use your home's equity to help pay for some of life's more significant expenditures.
Home Improvements
College Education
Wedding
Pool, Boat, Camper, RV
Vacation home
Fixed rate/term and revolving lines of credit are available. Low rates and low closing costs. No closing cost options available. Interest may be tax deductible*
*Consult your tax advisor.
Fixed Rate and Term

Get all of the money at once and repay over 5, 10 or 15 years

Affordable payment plans
Local underwriting for smoother processing and quick decisions
Easy application process
Great for those one time expenses like home improvements or a wedding




Home Equity Line of Credit

Tap into your home's equity with a revolving Home Equity Line of Credit. Works very much like a credit card. Use it, pay it back (some or all) and use it again

Draw against the line for 5 years
Interest only payments during the 5 year draw period
15 year repayment period after draw period ends
Variable interest rate tied to WSJ Prime
Great for times when you need some now and some later like college tuition
Easy access to funds via debit card, check or online
Interest charged only on what you use
Pay it off and use it again