Auto Loans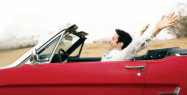 Has the time finally come to purchase a new vehicle? We offer financing, whether it's a truck for hauling, a mini-van for carpooling, or a sports car for cruising.
Our low rates and in-house processing ensure you can get approved quickly without all the hassles. We offer pre-approvals for better bargaining at the car lot, refinancing for existing auto loans, and financing to fit all budgets. Talk to one of our experienced lenders today.
No payment for 90 days!**
Summary

Financing for new and used vehicles
Borrow up to 115% of book value*
Competitive low rates
Affordable payment plans to fit your budget needs
Flexible terms
Get pre-approved for better bargaining power
Refinance an existing auto loan for a lower rate
Quick decisions for greater convenience
Option for payroll deduction to make payments for greater convenience
Low cost extended car warranties available
Life, disability, and other payment protection plans available
Consider GAP+ Insurance
If your car is totaled, GAP+ pays off your balance and gives you $1,000 toward another vehicle
Personal service to guide your through the lending process

*For qualified borrowers.

**Interest will continue to accrue during the payment deferment period. Deferred payment may not exceed 90 days. Offer not available for existing DVA FCU auto loans.

Certain restrictions apply.

Shopping Assistance

MVCP (Motor Vehicle Certification Program)

This free service can help you get the right price when buying or leasing a car or truck. Visit MVCP online here or call an advisor at 1.800.345.0990.




UBS (United Buyers Service)

This free buyer service is available in the Washington, D.C., and Baltimore areas. You can obtain a Purchase Certificate for your car and get a pre-negotiated savings at an authorized UBS dealership. Contact UBS online here or call 301.657.1920 for a referral.

Additional Coverage

Extended Car Warranties

Our Vehicle Assurance Protection Program offers two types of coverage for your vehicle. For new cars or cars with some remaining manufacturer's warranty, we offer bumper-to-bumper coverage (general maintenance items are not covered). We also offer a named component coverage which covers only specific listed parts. Emergency road service is included in both types of coverage.




Guaranteed Asset Protection (GAP)*

This coverage will make up the gap between your auto insurance and the loan balance in the event of total loss of the vehicle. There is a one-time cost of $295, which can be added to your loan or paid separately. Emergency road service is included.




Payment Protection Life and Disability

This valuable consumer payment protection covers your monthly loan payment should you become disabled due to a covered illness or injury. Payments continue until you're no longer






*All products and services represented on this page are not NCUA-insured, are not guaranteed by this financial institution, are not obligations of this financial institution, and involve risk including possible loss of principle.