Holiday & Vacation Club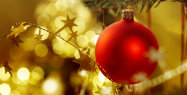 Put some power behind your vacation dreams and open up a club account designed to help you save for a specific destination. Deposit money (how much and how often is up to you) to use toward your special trip.
Holiday club accounts are available, too. Contribute money to your account all year for the holiday season, and avoid going into the new year with debt. Talk to a DVA service representative about how to open a Club account today.
Summary

Club accounts designed to help you save up for something specific
Vacation club accounts to save for a special destination
Holiday club accounts to save for the end-of-year spending season
Avoid racking up unnecessary debt
Contribute as much and as often as you like
Funds distributed once a year (Holiday account only)
Easy to maintain
No monthly service charge
No minimum balance requirement
Easy ways to manage accounts, 24/7 via
Free Online Banking
Free e-statements to reduce chances for fraud
Penalty for early withdrawal on the Holiday Club account
So you don't sabotage your savings plan!
NCUA insured