High-Yield Money Market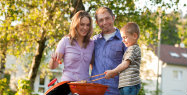 Take your savings to the next level and earn a better rate of return on your balance. Money market accounts earn tiered rates, which means higher balances earn higher rates.
Another great thing about this account is you can retain access to your funds. Which means greater flexibility in the event you need to withdraw cash, penalty free.
Summary

Maximize earnings with tiered rates on your balance
Higher balances earn higher rates
Maintain a balance over $100 to earn dividends
Earning compounded monthly
Easy ways to manage accounts, 24/7 via
Free Online Banking
Free e-statements to reduce chances for fraud
No monthly service charge
NCUA insured