eStatements
Go green by cutting down on paper waste with eStatements. These secure digital versions of your paper statements are available online sooner than a mailed statement could arrive in your mailbox. You can view past statements online as well, without having to dig through your files. When it's time to balance the books, you can print them out or download them into your financial software to make it easy!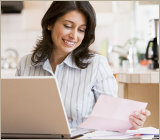 Summary

Receive statements sooner

More secure than by mail

Save on paper waste

Accessible online anytime

View past statements

Save/print/download easily

Available through online banking

FAQ

What are eStatements? back to top

eStatements is a service provided by DVA FCU to allow you to view your statements online. As an eStatements user, you have a personalized eStatements home page to access the last three statements archived for you by DVA FCU. In addition, we will send you an email notification each time a new statement is available.

Are eStatements safe? back to top

Yes. Your eStatement is stored on a secure server and transmitted to your internet browser using 128-bit encryption. Only you can access your eStatement using your Home Banking user ID and password.

What are the benefits of having eStatements? back to top

eStatements are a safe and convenient way to receive your monthly statements. See below for some of the benefits of eStatements:

Convenience. Get 24/7 online access to your statements. You will also receive your statement earlier than you would normally receive your paper statement.

Reduce Clutter. You will no longer have to worry about paper filing or shredding of your statements.

Protection against identity theft. eStatements are a safe and secure way to receive your statement information. Accessing your statement online helps keep confidential papers away from thieves.

Helping the environment. By using less paper you can do your part to help the environment.

Does my eStatement contain the same information as my paper statement? back to top

Yes. Your eStatement contains the same information your paper statement does. The eStatement itself is a Portable Document Format (PDF) version of your paper statement and looks exactly like the paper statements you're used to receiving.

Will I be able to get the additional information that came with my paper statement? back to top

Yes. You can still receive the credit union news you're used to getting online when you log into your Home Banking account and select "eStatements" from the left-side menu.

Will I automatically receive my credit card statements electronically if I enroll in eStatements? back to top

No. Monthly credit card statements are not available electronically at this time. You will receive the same statements that are in your regular monthly statements.

How many months of statements are available through eStatements? back to top

You will be able to access three months of statements though your eStatement page. Feel free to contact us if you need statements from longer than three months ago. Keep in mind that you will be charged a fee for paper copies of your statement. If you know you may need statements older than three months you should save your statements each month.

Is there a fee for the eStatement service? back to top

No. eStatements are a free service from DVA FCU. You may also access up to 3 months of your eStatements at no cost.

How do I sign up for eStatements? back to top

Signing up for eStatements is easy. You just log into your Home Banking account and click on the eStatements link on the left side of the page. Once you accept the agreement you will receive an email welcoming you to eStatements.

Why do I need to provide my email address to sign up? back to top

We are required to notify you each time that an eStatement becomes available. This notification is delivered via an email message to your email address and does not contain sensitive or personal information.

When will my eStatement be available? back to top

In most cases, eStatements are available within 48 hours of the first day of the month--days before your paper statement would arrive in the mail.

How do I access my eStatements? back to top

You can access your eStatements home page and documents through the Internet in several ways:

By email notification. As an eStatements customer, you will regularly receive emails when your statement is available. To access the statement, simply click the link to the statement in the email you receive.

Through online banking. After logging onto Home Banking you can access eStatements by the link on your accounts home page.

How do I notify the credit union if my email address changes? back to top

If you email address changes please notify us by sending an email through online banking.

What requirements do I need to access eStatements? back to top

Signing up for eStatements requires enrollment in Home Banking, a free service available to all DVA FCU members. eStatements also requires a valid email address.

To access eStatements, you need either Microsoft Internet Explorer version 4.04 or higher or Netscape version 4.0 or higher to serve as your browser. You can download a free browser by accessing one of the links below:

In addition, you may need Adobe Acrobat Reader version 4.0 or higher, or a TIFF viewer, to view your statements.

NOTE: For links to Adobe Acrobat and a TIFF viewer, see "How do I view my statement?"

What is my eStatements home page? back to top

Your eStatements home page is a separate window for viewing your eStatement information. Your eStatements home page has two main areas:

The Documents area lists the document types for which eStatements documents are available.

The Unviewed Documents area includes the eStatements documents that you have not yet viewed. After you view a document in your Unviewed Documents area, the link no longer appears under Unviewed Documents. However, you can access the document from your Documents list.

How do I view my eStatement? back to top

To view your statement, click on the Documents area to the left of your browser. Choose from the list of statements available for viewing. When you click the link to a document on your Documents list or your Unviewed Documents list, the statement is displayed in your browser. If you accessed the statement from your Documents list (rather than the Unviewed Document list), links to previous versions of your document are displayed on the right side.

NOTE: If you have trouble opening a document, you may see an error message indicating that you need to install a PDF viewer or a TIFF viewer. If you need a PDF viewer, you will see a window asking whether you would like to download a file or save it to disk. Cancel the window and install Acrobat Reader to view your statement.

To install a free PDF viewer, go to Adobe's website and follow the instructions to download and install Acrobat Reader.

If you are not able to open a TIFF file, you will need to install a TIFF viewer to see your document. To install a free TIFF viewer, open www.alternatiff.com in your browser and follow the instructions to download and install AlternaTIFF

Can I save my eStatement? back to top

Yes. You can save your eStatement to your computer or disk from the Adobe Acrobat Reader® software by selecting the diskette icon in the tool bar at the top of the page. Or, choose the "File" menu in the upper-left hand corner of the screen and select "Save A Copy" (Ctrl+Shift+S).

How do I print my eStatements document? back to top

If you have a printer, you can print your eStatements document directly from your browser. Depending on your browser and the type of viewer in which your document is displayed, there are different ways to print a document.

To print your eStatement:

If there is no printer icon below your browser's menu bar:

Click in the middle of the document you want to print

Optional: If your browser is Internet Explorer, you can preview by selecting Print Preview from the File menu.

Select Print from your browser's File menu

Select all pages

Print only the selected frame

For Internet Explorer: click the Options tab and check Only the Selected

For Netscape: select The selected frame

Click Print

If there is a printer icon below your browser's menu bar:

If there is a Pages field next to the icon, select the number of pages

Click Print

Can I receive a printed statement if my computer isn't working or I need one for some reason? back to top

Yes. You may visit your DVA FCU branch to access your account and print eStatements at no fee. Please ask a Member Service Associate to help you access your account via the Home Banking service to print eStatements.

Please note, there may be a fee for all other statement copy requests (by phone, etc.). If you would like to stop receiving eStatements and go back to receiving paper statements you must contact us by email through Home Banking, phone or at your local branch.

How do I log out of eStatements? back to top

To exit eStatements, close your browser window. It is important to ensure that no one else can view your statements. Since the eStatements page opens in a separate window your Home Banking page will still be open.

What do I do if I have additional questions about eStatements? back to top

Contact us online or through Home Banking with any questions.